Latest Posts
Subscribe to this blog's feed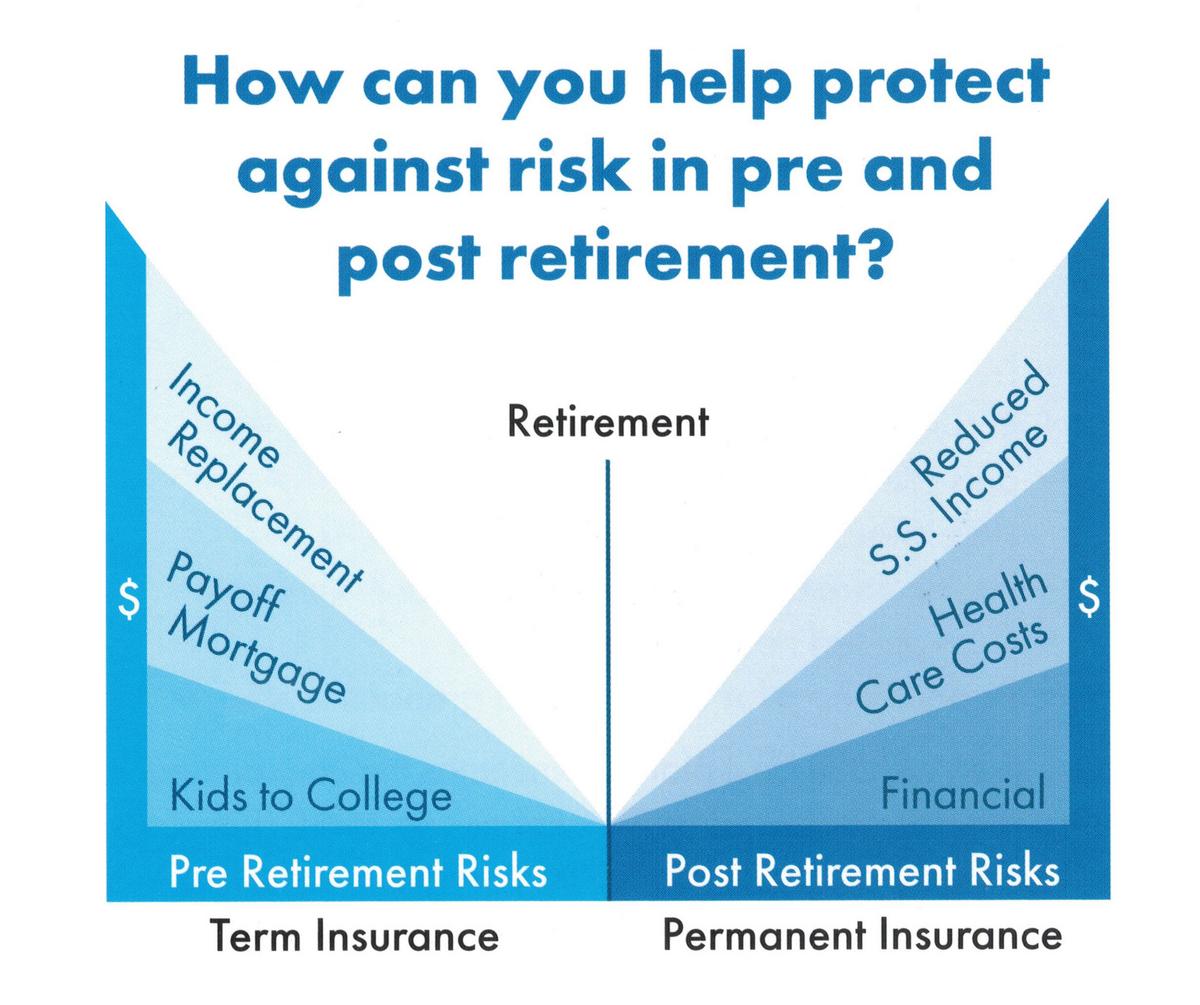 Most of us may have to face several financial risks before and during retirement? Earlier in life there are 3 major risks that an individual and families may face, but each risk tends to get smaller over time.
3 Potential risks are:
Income replacement due to the death of a primary breadwinner
The cost of college savings for your children
Paying off the mortgage
As we get older and these risks decline, a few other risks emerge, and they tend to become more daunting over time:
The multitude of financial risks. Possibility of living too long, interest rates, stock market, rising tax rates, house repairs, etc.
The rising cost of health care
The potential reduction of social security income due to the death of a spouse. At the core of your protection, you have life insurance
The three pre-retirement risks can usually be alleviated with a term insurance. Unfortunately, the three post-retirement risks that occur in life often cannot be adequately mitigated with term insurance. Permanent insurance, such as universal life, may be a good fit to protect assets from the above mentioned risks.
Solution for all three risks. No matter whether you are in pre-retirement, transition into retirement, or solidly in your retirement years, one of the three things could happen to you. You'll either:
Die too soon
Get sick along the way
Live too long
In recognition of these three occurrences, we have a solution to address living too long or becoming sick which covers Chronic, Critical and Terminal illness or conditions. This combination of riders on this life insurance policy helps to provide the financial safety net to help get through all three scenarios. Our goal is to bring each and everyone peace of mind during these time and to ensure that living too long is the best way to go, without the financial worries.
How can you protect yourself against risk in the pre and post retirement?
At the core of your asset protection, you have life insurance. The life insurance policy that provides protection for: (1) income replacement if you die prior to retirement, (2) paying off any outstanding mortgage balance, (3) providing college funding for your children, and (4) During retirement, the death benefit can provide funding to replace reduced Social Security income due to the death of one spouse.
Protection against a multitude of financial risks including:
Market corrections and poor investment performance
Living longer than expected
Did not save enough
Tax rates increases
Low interest rates
Reduced Social Security income if one spouse dies (death benefit protects one spouse, LIS protects other spouse)
Health care costs (unrelated to chronic illness)
Unexpected house repairs
Financial help for children and grandchildren
Finally, even with the best plans, sometimes the unexpected can happen -- such as a serious illness or condition. The costs associated with treatment, as well as possible income lost if you are unable to work, can threaten your day-to-day living. We have products designed to let you use your life insurance benefits when you need the most. Life insurance that you don't have to die in order to use. Riders that can help pay for the costs of treatment for qualifying illness and conditions -- or any other expenses. It does this by including, no additional premium, a valuable rider that allows you to access you base life insurance benefit while you are alive if you have a qualifying illness or condition. Life insurance that provides all three coverage in one unparalleled package of protection against broad array of financial risks that are so prevalent during retirement. Imagine, you now have the capability of having a protection from all the risks in one financial product...Life Insurance. Call us today, don't wait! Life is Wealth...